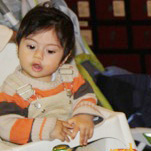 Names:Alon Mendel with his parents Adi and Dikla ,and Aunt Julie
Nationality:Israel、French
Hi H! my name is Alon Mendel.. I'm 9 months old. I came to do this class with my Mommy Dikla and Daddy Adi and my Aunt Julie. My parents and I are from Israel and Julie is my Mommy's friend from France.
I'm still drinking milk, but since I recently got new teeth(!!!) Mommy started to give me other good things to eat! I'm so excited and am tasting anything I can get my hands on..
Mommy and her friends heard of the "Wu Guang Tang" vegetarian and organic restaurant, and we already went there for lunch a few times (together) and now Mommy was invited to try and learn Chinese Cooking by herself .
Its a great chance for me to leave the house and enjoy the trip in my stroller!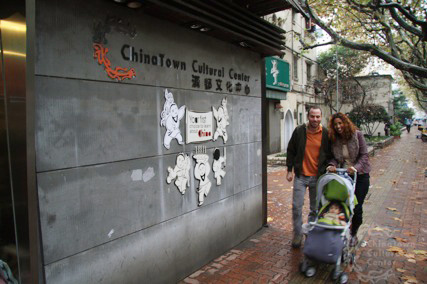 Julie hasn't arrived yet, so till she comes Mom and Dad enjoy a cup of tea. What about me?!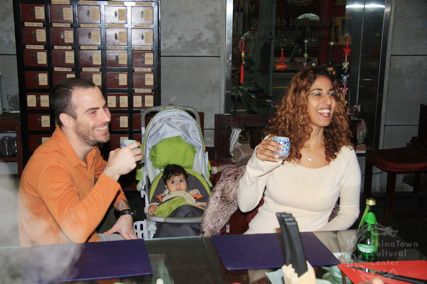 The teacher is the Chef of the restaurant – and that's very exciting!
The lesson includes two dishes. One stuffed sweet pepper (with ginger, carrot and pumpkin puree) and the other is a cold dish. My Mommy checks all the ingredients and approves: I can eat this! Woo hooo!!
the Chef shows the sauces and explains about each one.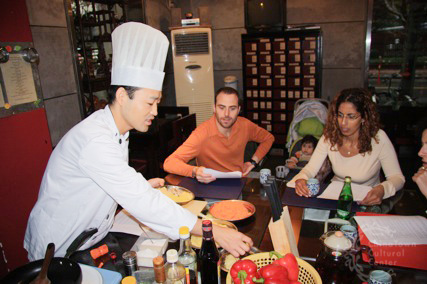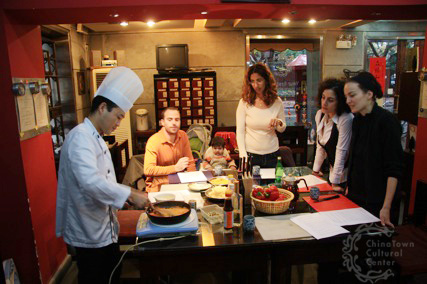 look at my mommy! She's clearly paying attention.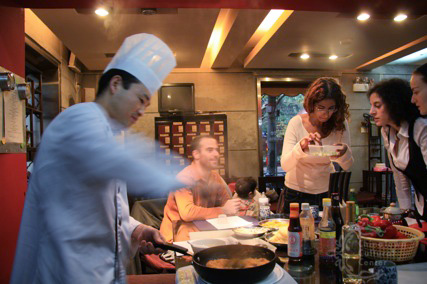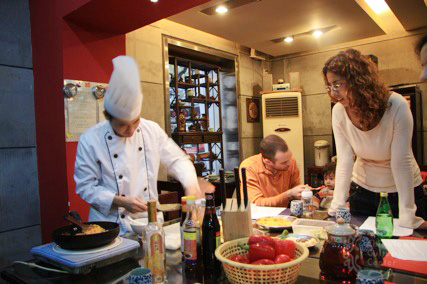 I get a quick taste already, half-way through the dish preparation.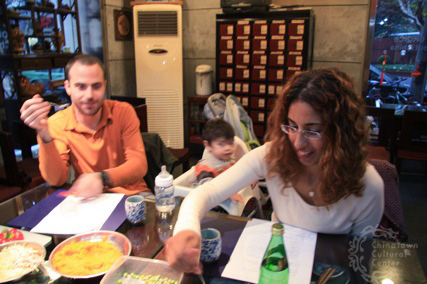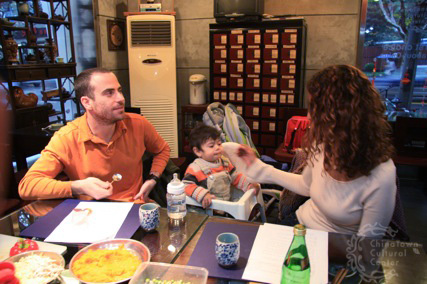 And now to work! Everyone puts on their aprons and cooking hats, even me.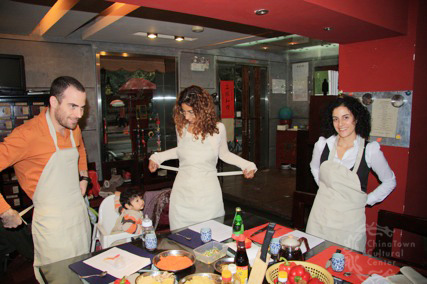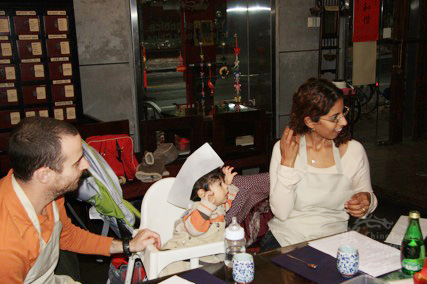 Look at them. Taking their time learning.. while I'm here sitting patiently and drooling.. just a drink of water so far..

Mommy mastered this dish! She does all the steps by herself: cleaning the pepper, making the puree, filling it, and presenting the food.

Looks good!

Hurry Up! Hurry Up. I cannot wait for another bite! Feed me!

Yummy!! Looks AND tastes good!

We're all issued certificates for our cooking class. I give my certificate a bite!

Group Photo. Take a look at me.. so antsy! Give me back my certificate…

We all had a blast! I ate a lot of healthy and nutritious food, which tasted great (that makes Mom and me happy), and most importantly now my Mommy can re-create the yummy dish in our kitchen. Can't wait for some more! Bye! Bye!!