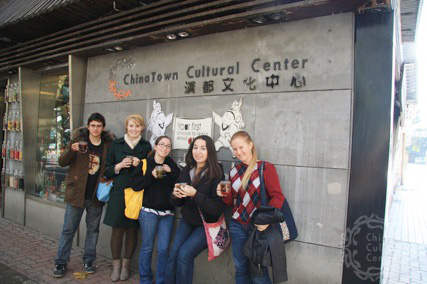 Names: Deborah Chesser, Megan Sadler, Zoe Bollinger, Jonas Hill, Kate Contad
Nationality: American
I am Deborah Chesser, my Chinese name is 常旦明 (one of my friends chose this name for me). These are my friends: Megan, Zoe, Jonas and Kate – they're also from the States, and although we haven't met before Shanghai we are now good friends. I'm leaving Shanghai in two weeks so we're all looking forward to learning and eating together at the Chinatown Culture Centre.
I am a devout vegetarian, so I'm super happy to try out this restaurant- organic veggies, no MSG, no frying, no meat, just real pure vegetarian cuisine, which also encourages people to respect nature. The vegetarian hot-pot concept sounds fun, plus we heard there's a Cultural Center here and we arranged for a full day learning and food experience.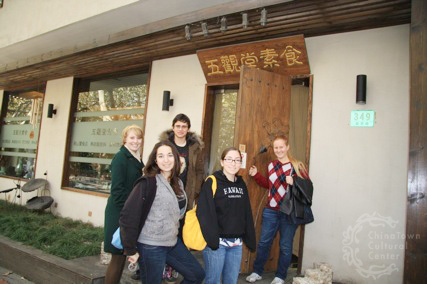 So the plan for today is to have lunch and 3 classes: Embroidery, Chinese Calligraphy and Go, and finally tea and hot-pot for dinner. We really look forward to start!
OK. So we walked inside the restaurant and were immediately served with tea cups to brew our own cup of tea. There's an antique chinese cabinet with lots of drawers, each for a different kind of tea.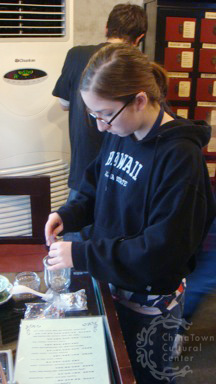 PART 1 – Lunch (organic veggie lunchboxes)
Lunch is ready! Each person gets a different lunch set and all of it looks delicious. Bon Appetite!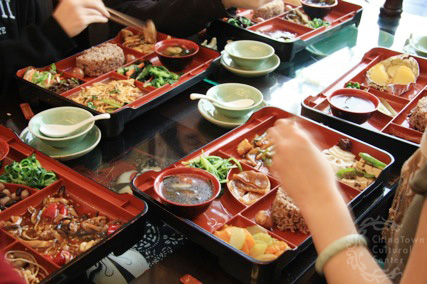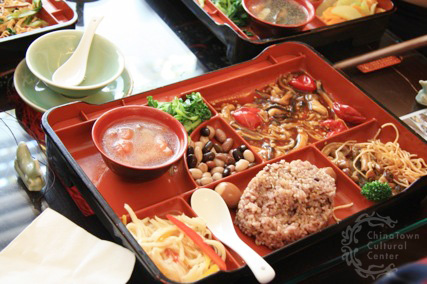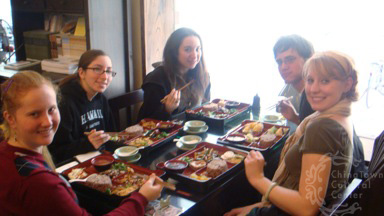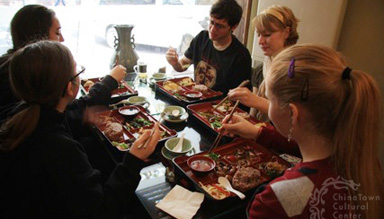 Here's the store's business card: made from bamboo with Chinese knot, it can accessorize a cell phone – perfect for Megan (the more, the better!)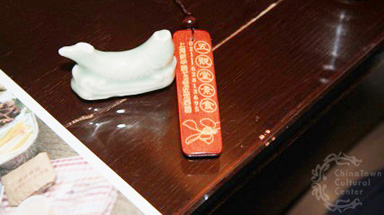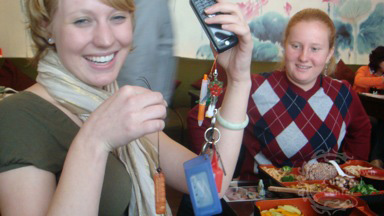 Wow, the menu is very cool! Its handwritten and illustrated by hand! The staff tells us that the menu is updated regularly, and each time different people volunteer to handwrite a part of the menu. I want to do the English version next time!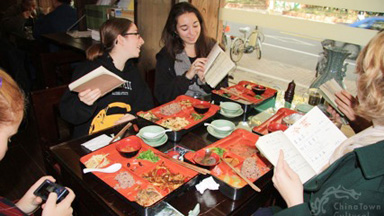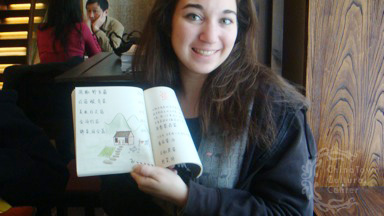 Wow! Really Yummy! We totally devoured the food!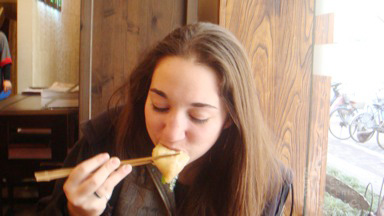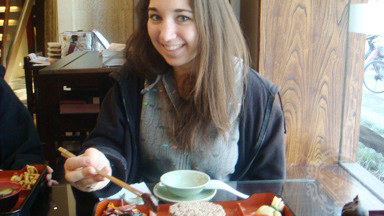 After practically cleaning our plates we order extra baked potato. D-e-l-i-c-i-o-u-s! Next time I visit. I'll have that again. twice.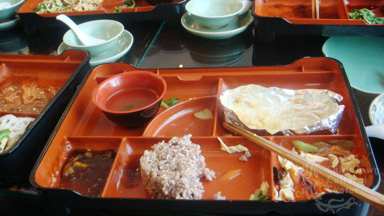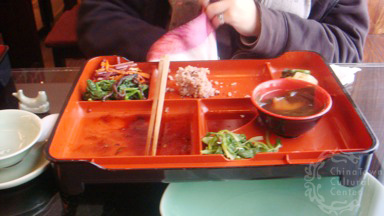 PART 2 Embroidery experience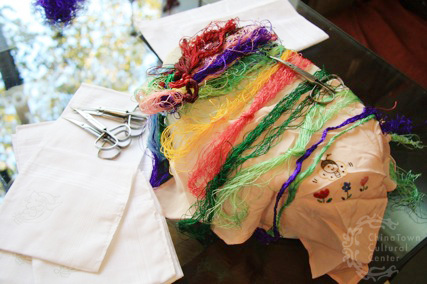 The color of the threads look good! Now we are about to learn to embroid a flower. The teacher distributes our materials and tools.

This is a first time for any of us to try something like that. Brand new experience. Especially for Jonas… thread through the needle..

With the teacher's help, Jonas can finally start.. looking a bit funny as he sews.

Now we do the actual embroidery part.

This is obviously easier for some of us… Megan gets some friendly feedback.

Resting my eyes for a bit..

Almost done.. take a look at my embroidery.. its pretty good no?

And we're done!

PART 3 Calligraphy experience
OK, so first we need to learn how to write with a brush. Our teachers shows us the basic strokes that we need to write the character "福" "good luck/fortune" in Chinese.
The character is constructed from "person", "clothes", "field" and "mouth" – symbolizing all the good things making a person truly happy: clothes to wear, field to grow rice and mouths to feed (family). The philosophy of "福"is really magical.. that one character can mean and teach so much.

Now we need to learn the proper way to hold a brush – should be always vertical to the paper.. oh, its pretty hard to do..

Then the ink stick is ground with water, to be used for writing. The ink stick is the name of "Jin BU Huan", which means it is very rare to get gold for me, I would not change it! Chinese culture is very interesting..

Our teacher shows us the right way to write the storkes: direction and proper angles, and we practice.

And then practice some more..

Finally some progress! The "Fu" starting to look good.

Then we learned to write ours Chinese names.

The teacher is happy with our practicing, so now we can finally write "Fu" on the white Chinese fans. He shows us how, which of course looks great..

And now we try to do it..

Very cool. It used to be good manners for Chinese ladies to cover their faces with fans while laughing. How do we look? (-:

PART 4 – Go experience
For our Go class we go up to the roof balcony..

Wow, a really big chess board!

Class starts. Jonah and Zoe are the students this time, and Megan, Kate and myself are the observers.

Zoe and Jonah learn quickly.

Meanwhile the three of us sit down and have some tea, enjoy the view from the balcony and the sunset.

Both zoe and Jonah are nearing the end of their lesson as they practice.

Go Class is over and we go back downstairs to have some tea and hotpot dinner.
While we drink our tea, we try to have a quick game of Go with a smaller set on the tea table..

PART 5 – hot-pot dinner
The fresh vegetables are supplied daily from organic supermarkets and farms.
The key word here is "by yourself" – we don't only choose, cut and cook our own veggie hotpot, but even make pasta noodles, cotton candy and caramelized berries!
The hotpot is set and we're getting ready! There're drawers under each table with aprons and cooking tools.

Putting on our aprons..

While the soup is cooking we eat some cold dishes.

Looks yummy!

The sauce stand is also interesting, I taste around a bit to see what is what.. aha! The mushroom sauce!

These are the snacks: steamed baozi, fried dough sticks, dumplings, pumpking desserts. Each looks so cute, just choose and eat!!

Ok, the soup on the hotpot is nearly done and now is the time to add some veggies. Behind us is a shelf with loads of fresh produce, I don't even know half of the greens' names here, but anyhow its time to eat healthy!

Hands-on cooking! Zoe and Megan chop their baby carrots.

Kate and I shred potatoes.

Everything is vegetarian.. even what at first appears to be a meatball is made out of soybeans. Very tasty!

Noodles! This is the pasta dough – waiting to be made into colorful noodles.

We played around with it a lot, it was fun!

Look at our pasta!

And now, the cotton candy!

Fun AND delicious!

Wow, a caramelized hawthorn berry.. I've only seen them on TV, never thought I'd have the chance to make one!

This was a GREAT DAY – a totally unique experience and taste(!!) of China. Thank you so much!!